About

Us

Along with your swimming pool and spa comes the very important choice of a company to service, repair, and even help maintain your indoor or outdoor attraction. If you know quality service, you'll know Watts. Watts Pool Service was founded in the 1970's by Geary Ray Watts. The service department was originally a part of Watts Pool Company, which was founded in 1961 by James W. Watts, Sr. Jim Watts, Sr. established a reputation for "unsurpassed quality, integrity, and service".
Equipment Repairs & Weekly Maintenance
Watts Pool Service provides equipment upgrades, installations and repairs by licensed, certified service professionals.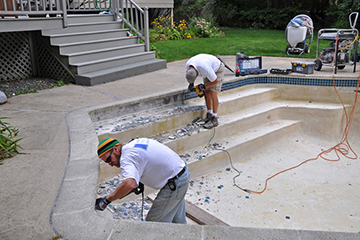 Renovations
Complete professional water lab analysis while on our Bioguard chemical program, as well as FREE chemical delivery within our service area. *$50 minimum
Bioguard Chemicals & FREE product delivery
Complete professional water lab analysis while on our Bioguard chemical program, as well as FREE chemical delivery within our service area. *$50 minimum
Pool

& Patio Renovation Galleries
Why

Watts
Good standing member of the Association of Pool & Spa Professionals since 1975
Maintenance and technical personnel attend extensive training seminars annually
Almost half of the WPS staff is family members with 18+ years experience leading
the pool and spa industry
WPS offers a 30-day workmanship guarantee
Renowned family business serving Greater Houston's distinguished clientele since 1961
Winners of multiple awards from the Association of Pool and Spa Professionals
Head technician is not only a family member, but also a Certified Service Professional and Licensed Installer
Certified Stain Specialists
Allow our family to handle your individual needs from the initial consultation to the start up of your unsurpassed project