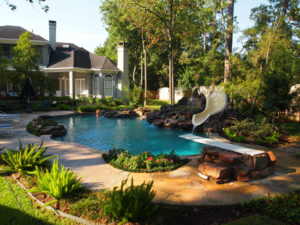 Along with your swimming pool and spa comes the very important choice of a company to service, repair, and even help maintain your indoor or outdoor attraction. If you know quality service, you'll know Watts. Watts Pool Service was founded in the 1970's by Geary Ray Watts. The service department was originally a part of Watts Pool Company, which was founded in 1961 by James W. Watts, Sr. Jim Watts, Sr. established a reputation for "unsurpassed quality, integrity, and service".
Watts Pool Service is family owned and operated, therefore, we take great pride in every job. A family member personally supervises every renovation job site and most service sites to ensure quality workmanship and customer satisfaction. Our most important goal is to be certain that our customers are more than satisfied with every Watts endeavor.
No matter what our project consists of, we strive for a high degree of professionalism in all of our employees, taking on-going care of your pool as well as its surroundings. During renovations, when outside contractors are needed, their activities and ours are coordinated to fit with your schedule.
Watts Pool Service has been in great standing with the Association of Pool and Spa Professionals for many years. We attend several manufacturer seminars yearly in order to ensure that we encompass the most up to date knowledge available. Our head technician is a Licensed Certified Service Professional and has provided his expertise to Watts Pool Service for over 20 years.
Watts Pool Service is fully insured. So relax and be confident to let Watts Pool Service take care of all of your swimming pool and spa needs.